A History of the Jefferson County Region
Page 3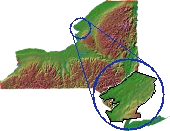 Compiled by Marc M
e-mail
Copyright (©) 1997-2019 All Rights Reserved
Okay to download and print for your own use, do not make duplicate copies. Please refer other interested parties to this website.
This site is no longer actively maintained.

---

- Click for a location map
Dr. Samuel Guthrie, a Town of Hounsfield resident, conducted experiments which led to the first known use of chloroform in 1831 or 1832 in an operation at Madison Barracks

. He used it for amputations, Dr. Guthrie also invented the percussion cap and in more modern times a medical clinic at Fort Drum was named after him.
During 1832 a canal was being built which would have run from a point on Black River

in Watertown through Sulfur Springs to Camp's Mills and Jewetville and empty into Black River Bay in Sackets Harbor

. The canal was being built under the command of Elisha Camp but was abandoned after ten years and was known as "Camp's Ditch". Also in '32 the North Watertown Cemetery was started as a burial ground on land donated by Vincent LeRay de Chaumont.
Collins Landing (where one end of the Thousand Islands Bridge

now sits) was named for the Collins family, who moved from Stone Mills sometime in the earlier 1830s to what later became Collins Landing. The Collins mill in Stone Mills, which was built of limestone dug from the area, gave Stone Mills

its name (Stone Mills Museum website). When Joe and Mary Collins bought the land and moved to what was later called Collins Landing, they found only forests. Joe's father, John B. Collins, was one of the first proprietors of Stone Mills and had surveyed the Collins Landing area years before. The family built a log house which they lived in until about 1880, when a frame house was built by Joe Jr. Collins Landing became a community when two sawmills, at least one cheese factory, and a post office called The Narrows was built. An oar-powered ferry was run between Collins Landing and what was then called Wells Island. Later a wood refueling station was built there and large metal rings were built into the rock for securing boats. These rings were still able to be seen for a while after the bridge was built but were taken out later as a hazard. One of the postmasters at the post office was George Collins, a brother of Joe Sr. Joseph Jr. transported the mail on horseback through the woods from LaFargeville. (This info is from a webpage by Nancy Dixon, who got most of the material from Josephine [Collins] Fredenburg's pamphlet on the Collins family.)
The town of Clayton

was formed in 1833, named after the village at French Creek or John M. Clayton; a senator from Delaware. In the same year the Jefferson Cotton Mills in Watertown was destroyed by an incendiary fire on July 7, also Joseph Bonaparte's log lodge at Lake Bonaparte was destroyed by fire during this time period. But Bonaparte's improvements at the lake may have paved the way for later settlements there.
In April, 1833 John. S. Foster visited the area, checked out some locations, and settled on a stream connecting Mud and Butterfield Lakes, the former lake ninety-four feet above the other, providing some water power. The location had been improved by a saw and grist-mill by David Smith of Adams, previously. Foster contracted with Francis Depau for 10,000 acres of land and borrowed some money from him and built a glass factory. On September 30, 1833 the first glass was made. The village had previously been surveyed by Thomas Clark and called Jamesville, but Foster renamed it Redwood

for its similarity to Redford, which was where the Redford Crown Glass Company that he had been previously employed at was located. This was in an attempt to compete with Redford, from which he said he had been unfairly discharged. Another employee from the Redford factory was hired by Foster too. Between 1833 and 1881 the Redwood Glass Manufacturing Company flourished in Redwood.
Around 1834 John LaFarge married Josephina Binsse de St. Victor in LaFargeville

and the year after left for New York City. Their mansion in LaFargeville was taken care of and later sold by Josephina's father, Dr. John Binsse de St. Victor (to see the remains of the mansion click here).
Captain August Pickering of Sackets Harbor

sailed a commercial vessel into the frontier town of Chicago in 1834. The Jefferson County Poorhouse was also erected during this year and many years later was the location where the North Country Library System facility was built.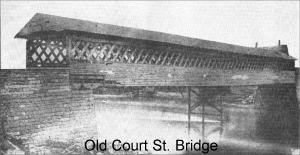 Francis Depau - an early speculator, ship line owner, and New York City merchant, gave his name to Catfish Falls Depauville

. Beginning in 1835, water lime was manufactured by two mills in Depauville and in a two-year period over a thousand barrels were produced. A wooden bridge was constructed over the north channel of Black River in Watertown, and Sheldon and Moulton built their flour mill in this year.
On September 01, 1836 John N. Gunn, a veteran of the War of 1812, bought 10.34 acres in the Town of Clayton on what is now called Gunn's Corners and then on April 11 1842, he bought another plot of 16.4 acres nearby. He had settled in the Pamelia area before 1819 and operated a store at Pamelia Four Corners.
During the time between 1837 to 1840 The Patriots' War took place in Canada. This war was a rebellion which attempted to expel British rule from Canada. The U.S. border with Canada, including the Sackets Harbor

Naval Station, was fortified in response to the rebellion. The famous "Stone House" in Cape Vincent

housed Canadian rebels.
A group of men from Jefferson County were banished to Tasmania for their actions in the rebellion, see a list here. (Thanks to Stuart D. Scott for this info, see info on how to order his book about this here.)
In either 1837 or 1838 Bill Johnston of New York and William L. Mackenzie, the grandfather of the late Canadian Prime Minister Mackenzie King, planned an attack against the British during The Patriots' War. The legend goes that too much alcohol drank at a victory celebration that took place before the battle prevented the attack from ever taking place. But Johnston and a small group of men did burn and sink a British ship; the Sir Robert Peel, after robbing its passengers and letting them out on shore, in the American channel south of Wells Island (now Wellesley Island

). Both the US and Canadian officials searched for pirate Johnston, he hid for almost a year in Devil's Oven, a cave on Devil's Island. His daughter brought food and other supplies to him nearly daily by boat. But after a year he gave himself up and was pardoned, then later appointed a lighthouse keeper at Rock Island Lighthouse in the Thousand Islands.
Also, in 1837 the church at Stone Mills

was built (See later in this text for more info on the Stone Mills church and agricultural museum). In 1838 President Martin Van Buren visited Madison Barracks in Sackets Harbor

. A volley of muskets fired in his honor nearly resulted in tragedy when a ramrod; left in the musket barrel by one of the soldiers, flew through the air and speared the ground near Van Buren.
Sometime in 1839 when Joseph Bonaparte took his last trip back to England, he provided a home for his American 'wife' and daughter by building a home on a bend of the Indian River between Evans Mills

and Philadelphia

. Later Julie married a local.
During the 1840's the Eighth Regiment left Madison Barracks to serve in the war against the Seminoles in Florida. On April 15, 1841, Theresa

was formed. The village is named after James Le Ray's daughter. In the same year Joseph Bonaparte, now in England, had a partial stroke, Le Ray died during the same year. Watertown got its first city directory. In 1840 the fastest time between Watertown to Utica or vice versa via stagecoach was about twenty hours. Also around the time period of the 1840's many German emigrants entered this part of the area. Many of the first settlers sold their possessions to the Germans who took over the work and were quite successful.
Cinders from the steamboat St. Lawrence (noted for her searchlight tours of the Thousand Island, had a capacity nine-hundred) started a devastating fire which swept from the wharves to destroy forty buildings in Sackets Harbor

in 1843. (Note from Greg H. - According to my railroad research, the steamer "St. Lawrence" that had the searchlight and conducted cruises for the railroad passengers was constructed in Cape Vincent in 1883. I think your "St. Lawrence" must have been an earlier vessel.)
Joseph Bonaparte died in England in 1844, leaving M. Louis Mailliard as executor of his estate. In 1846 six women in Jefferson County signed a petition which was sent to the state legislature asking for the "rights which have ungenerously been withheld from them, rights which they as citizens of the state of New York may reasonably and rightfully claim." Sunken Rock Lighthouse, on Bush Island off from Alexandria Bay, was built in 1847 and was an important wood station for steamers. The first portable steam engine in the US was also built in Watertown during this year.
From 1848 to 1849 Lieutenant Ulysses S. Grant and his wife, Julia Dent Grant, were stationed at Madison Barracks in Sackets Harbor. Captain Ulysses S. Grant, accompanied by his wife and son, returned to Madison Barracks for a second tour of duty in 1851.
On March of 1848 a fire in Watertown destroyed the Union Mills, a flouring concern and took two lives. A large fire started in the American Hotel and destroyed part of the business district in Watertown, including the Square and Court Street, in May of 1849. On December 1st of that year the New York State Supreme Court issued a writ which ordering the improvement of the Jefferson County Jail because of official complaints about the condition of the building. Cape Vincent was officially formed from Lyme on April 19, 1849 and named for Vincent Le Ray, James Le Ray's son. "The Cape", as it sometimes is referred to nowadays, was one of the last towns to be organized, though settlement began much earlier. In the same year plank roads with toll gates were installed in the county area and Walter Hunt of Watertown patented the safety pin.
In the mid-1800's or so, Henderson Harbor began as a fishing hamlet and had a history with Mark Hopkins, a railroad magnet. Between 1848 and 1851 about a hundred and seventy miles of plank road were built through the county by over twenty companies. The planks were usually about ten feet long, four inches thick, and eight or so inches wide.
In 1848 a railroad was built from Rome to Cape Vincent, at a cost of $7,500 a mile. A large railroad company then built an immense wharf three thousand feet long, two big freight houses, a grain elevator, a large train shed, and a hotel in Cape Vincent. The Town of Worth was created at this time, named after William J. Worth, a colonel (later a general) in command of troops at Sackets Harbor during the War of 1812. Worth then had a couple blacksmiths, three general stores, a boot and shoe shop, a furniture factory, a millinery shop, a post office, and fifteen sawmills. The village of Worth Center and post office were established in 1848 by Ezra Cornell who owned a store and was postmaster. Worthville was first known as Wilcox Corners and a store and post office were established there by L.P. Gillet.
Sometime in 1849 it was decided that an eleven mile long plank road would be built from Great Bend to Copenhagen. Noadiah Hubbard, then eighty-four years old, was picked to supervise it, against the protests of his family. Between 1850 and 1927 Cape Vincent had its own agricultural fair. The New York Daily Reformer was started on August 29, 1850, which many years later became the Watertown Daily Times. Also in 1850 the Paddock Arcade was built by Loveland Paddock, president of the old Black River National Bank, for a price of $15,000. Mr. Paddock had been to new York City and saw a photo of the Beauharnois Arcade there. He determined that there would be one in Watertown and the Arcade was built, being known then as the first glass-covered street in the U.S.
By 1850 New York State ranked first among the states in industry and commerce, and high in agriculture. In the 1850's thousands of Irish immigrants settled in the area after getting work working on the railroad, most settled on the west side ("the flats") of Watertown. The Woodruff Hotel was constructed by Norris W. Woodruff in 1852 and had ninety rooms at the time. Later the hotel had a hundred and ten rooms, and a hundred and forty more were added in 1921. Inspiration for it was rumored to come from another daring entrepreneur, John Jacob Astor, the builder of the Astor House in New York City.
Watertown had what was probably its first strike in the fall of 1851 when the shoemakers went on strike. The Sackets Harbor and Ellisburg Railroad Company, founded in 1850, began service in 1853. At Sackets Harbor, the railroad connected with the Ontario and St. Lawrence Steamboat Company. At Pierrepont Manor, it connected with the Rome, Watertown and Ogdensburg railway. The Sackets Harbor and Ellisburg Railroad Company ceased operation in 1862. Also in 1853 Rock Island Lighthouse was authorized by Congress. Bill Johnston, a well-known local pirate, was once a keeper there (see above under Patriots' War for more info on Bill Johnston).
Earlier the remains of an Iroquois village was found along the west branch of French Creek near the eastern boundary of the township of Cape Vincent. When the railroad was built around 1852, an Indian burial mound was found between Rosiere and Cape Vincent.
A special act was passed in 1852 for the supervision of the poor in Jefferson County and the first gas house was built, and the Watertown Gas Light Company was incorporated in the same year. Frank Winfield Woolworth was also born in Rodman in this year. Barnum's Museum and Menagerie showed in May of this same year; the show included six lions, Barnum's famous wax works, and General Tom Thumb as well as other attractions.
Antwerp and Cape Vincent (the latter with a population of 1218) were incorporated in July 1853. A canal was cut through Wolfe Island to shorten the route to Kingston. The first Limburger cheese was made in the United States in Rodman. Jefferson County once had forty Limburger cheese factories. Also in 1853 Watertown's first water system was completed after the village board set borrowed $50,000 and built a pump house and reservoir.
A suspension bridge was built across the north channel of the Black River on Mill Street from Beebee's Island to the main shore by Gilbert Bradford (inventor of the portable steam engine, not a local resident) in 1853. The bridge was a hundred and seventy-five feet long, twenty feet wide, and was forty feet above high water. A narrow walkway on either side of the bridge was for pedestrians and a ten dollar fine was given to anyone who rode or drove a horse faster then a walk over the bridge. And also in 1853 NY State's first Fireman's Convention was held in Watertown, and one convention has been held in the city at least once every decade since.
During 1854 Joseph Mullen, village president of Watertown, gave consent for a park area in the center of the Square in Watertown. In 1855 the first fountain on the square in Watertown was made; a local newspaper editor, Benjamin Cory, was responsible for it. Rock Island Lighthouse was refitted. The present-day tower at Tibbets Point Lighthouse, erected in 1854, is sixty-nine feet above the water and at the time when oil was burned sixty candle power oil lamps of fixed fresnel lens had been brought from France for it.
In 1856 a Bureau of Fisheries building was built in Cape Vincent. It is now the New York State Fish Research Center. The building was originally built to be a grist mill but was purchased in 1895 for the Federal government's State Fish Research Center.
In 1857 the newspaper The Reformer reported the richest man in Watertown at the time was Loveland Paddock with a fortune of $800,000. In the same year the black orator Frederick Douglas spoke on November 6th on the equality of the races but the manager of the Woodruff House, A Mr. Dorsey, refused to give Mr. Douglass accommodations at the hotel. He was persuaded by associates that he should and he agreed as long as his name did not appear in the register and he had his meals in his room, of which Mr. Douglass refused to do.
Sometimes in the late 1850's John Wise, John LaMountain, William Hyde, and O.A. Geager had set out from St. Louis to fly to New York City in a balloon but made a forced landing somewhere in Henderson. LaMountain remained in Watertown and with the help of a young Watertown editor, John A. Haddock, got the balloon out of the treetop it was trapped in and ascended from Public Square. They traveled four hundred miles on a heavy wind and ended up in dense wilderness a hundred and fifty miles from Ottawa, and were rescued four days later by Canadian lumbermen. The men telegraphed news of their rescue back to Watertown.
In 1851 the first railroad was brought to and into the city of Watertown and around 1853 a public water system and gas works for lights was installed around Watertown.
In 1859 Frank W. Woolworth's family moved to Great Bend. Later he briefly attended a business college in Watertown and failed at several business pursuits. Calvary, a Catholic cemetery located at Huntingtonville, was started around the same year. On May 11, 1859 the 'Watertown Home for Destitute and Friendless Orphans and Children' on Woodruff Street was incorporated but it was quickly overcrowded, and moved to a house on the corner of Sterling and Goodale Streets, but once again it was overcrowded and moved to a home on Franklin Street. A few years later the name was changed to 'Jefferson County Orphan Asylum'
On the night of December 15, 1860, the west side of Main Street in Adams

burned. The Carthage Republican Tribune started printing in 1860. April 12, 1861 saw the Civil War start as the Confederates under General Pierre Beauregard opened fire with fifty cannons on Fort Sumter in Charleston, South Carolina. On May 1st 1861, a flag pole a hundred and twenty-two feet high was raised in Public Square,over five thousand people witnessed the event. A parade of sorts ensued as Captain S.J. Mendell's company from Adams marched up Stone Street headed by the Watertown Cadet Corps cornet band. Volunteer firemen joined in with their red shirts as well as the Watertown Black River Corps in the blue uniforms headed by Captain Stephen L. Potter, a veteran of the Mexican War. Other troops headed through Watertown on their way to training in Elmira for the Civil War.
Roughly from 1860 to 1920 was what some called Watertown's "Industrial Age". A United States Provost Marshall's Office was opened in Watertown in 1863. Also in the same year Luther P. Hall started a white marble lime manufactory in Natural Bridge and manufactured from 3,000 to 4,000 bushes of lime annually. Around 1864 a bounty system had begun for men enlisting - they were paid $300 and within a few months time this went up to $1000. Then came the draft, which could be subverted if you could afford to hire a substitute to go in your place.
1865 - Some text found elsewhere but other documentation for this rumor found: "Lincoln Assassination Connection. In the summer of 1865, a stranger with a distinct southern accent rented a home on Maple Island. The house was hidden in a dense thicket against a wall of rock and could not be seen from the water. He kept entirely to himself and came to the mainland only on rare occasions, merely to buy provisions. One evening in early September, a fire was seen on the island from the main shore. Believing the hermit's home was ablaze and realizing it was too late to help him, local residents expected him to come ashore to spend the night at a hotel. When there was no sign of him for several days, some fishermen went to Maple Island only to find a man's body, his throat cut, and three crosses cut in a triangle across his naked breast. Everywhere there were signs of a desperate struggle. Although there is no definite proof, all circumstances lead to the belief that this man was John Payne, one of the group involved in the conspiracy to murder Abraham Lincoln and his entire cabinet. When plans for the murders of the Cabinet members were foiled, Payne and another of the group made off for Canada, where they were handed the money which was to have been divided among the assassins. Payne and his companion then disappeared. Apparently, he was traced to Maple Island by some of the other conspirators who took their revenge for his having absconded with their share of the spoils."
In the month of April in 1865 all the buildings from the mill in Adams north to the corner, including an old stone structure and landmark, the Whitney House, were burned. This fire and the one in 1860 got rid of a poor class of building and were replaced by more high-class business houses.
The Civil War finally ended in May of 1865 and a two hundred gun salute was fired at Madison Barracks. In Watertown someone dragged an old cannon onto Public Square and fired it all night, breaking many glass windows. A train of fifteen cars pulled up to the old station on lower Stone Street, disgorging the 186th Infantry to great fanfare. The procession of homecoming festivities was temporarily halted when a lone horseman came riding down Washington Street. Colonel Bradley Winslow, the commander of the 186th, so weakened by his wounds that he could barely sit on his horse, was cheered and bands played. Over time more homecomings of the soldiers took place.
Mullin Street School was built in 1868, by far the most modern and largest school that Watertown had up to that tie, the rest being in bad or deplorable condition. The Davis Sewing Machine Company was organized with a capital of $150,000, which was then increased to $500,000. In the same year the winter was particularly bad with heavy snowfalls, interrupting train service many times. In the Spring the snows melted and the highest level of the Black River was reached and on April 20th the dam broke at North Lake. Then the New York State Dam at Forestport, twenty-two miles downstream, broke. The dashing waters ripped out every dam between North Lake and Dexter. The waters destroyed many of the buildings along the short of Black River in Watertown, including many big businesses, the pumps to the waterworks, and damaging bridges.
Sometime either in 1867 or 1868 a company by the name of Depauville Steamboat Company was built in Depauville, and in 1868 constructed a side-wheel steamboat by the name of M.W. Wright. Other smaller ships were manufactured there also.
The M.W. Wright was manufactured for E.M. Winslow, President of the Depauville Steam Boat Company, by Jason Wain (or Wait). The steamship was seventy feet in length, fourteen feet in breadth, had a depth of four feet, and was of 92.34 tons gross, 42.84 tons net. Her first document was issued August 4 1868, enrolled at French Creek, New York (Clayton). Little more than a year later (September 9, 1869), she was sold to Duane Osborn of East Saginaw, and, for the next six years she remained in the Saginaw Bay and, later, Detroit River trade; she was converted from a side-wheeler to propeller in 1875. The following year, she entered the trade between Petoskey, Michigan, and Little Traverse (later, Harbor Springs), and a few years later embarked on the Pine Lake route, running among East Jordan, Petoskey, and Harbor Springs. Later, she was used for fishing and towing, until abandoned at Charlevoix and scuttled in Lake Michigan in 1891. (The preceding paragraph has been included by permission of the author, William Lafferty, Ph.D., verbatim)
The country village of Watertown became a city in 1869 with a population of about ninety-five hundred, and Watertown's YMCA and the Public Square Fountain was built. During the same year the Stony Point Lighthouse was built, replacing an older one. The lighthouse is situated on Lighthouse Road in Henderson Harbor, and is east of Galloo and Stony Islands. The structure is seventy-three feet tall, square, and made of wood, with an attached keeper's home. In 1870 a lighthouse at Horse Island was built of local brick and is similar to the one at Stony Point. Presently the lighthouse is privately owned but can be seen from the Sackets Harbor Battlefield. (Info from Lois Flack's excellent site "Lighthouse of Jefferson County, New York".) Also in 1870 the New York Weekly Reformer became the Watertown Daily Times.
On July 31, 1871 Charles and John Walton sold Hemlock Island, in the Thousand Islands, to a Mister Elizur Kirke Hart of Albion, NY. Mr. Hart served as a congressman from 1876 to 1878. After buying the island he renamed it Hart Island and had it cleared out and graded. By the summer of 1872 the foundation for a new summer home "cottage" had been laid down. The "cottage" was subsequently built and consisted of a high wooden and stone structure with a tower, elevated sleeping porch, and had eighty rooms.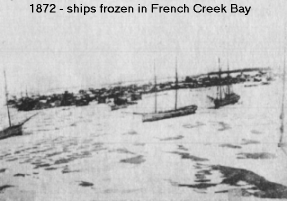 In 1872 President Ulysses S. Grant visited the county and increased the already thriving tourist industry. Grant spoke from the first balcony of the Woodruff Building and some 15,000 people crowded the Public Square to hear him, many having remembered him from his serving at Madison Barracks. In later years he made more visits to the 1000 Islands. George Pullman of Pullman Cars played host to Grant at his location on Pullman Island during these later visits. In the same year a Methodist camp meeting association laid out lots on the upper end of an island, today known as Thousand Island Park, a summer resort which also has a year-round population.
In 1874 the metal lions were placed in front of the Great Wardrobe Clothing Store on the Square. They are now in Doug Berry's store window in the Lincoln Building. In the same year a carding and cloth-dressing factory was converted in a planing-mill by C.C. Lake in Natural Bridge and was also used for a shingle-mill.
The Utica and Black River Railroad opened service to Sackets Harbor in 1875 and in the same year a new suspension bridge was built at Mill Street in Watertown. The assets of the Davis Sewing Machine Company reached $1,000,000. In 1876 fire destroyed nearly half of the Officers Quarters at Madison Barracks. U.S. President Ulysses S. Grant resolved to reinvest in and improve Madison Barracks. Also in the same year, the Eames Vacuum Brake Company was built in Watertown. This eventually became the New York Air Brake Company. Adams Grange Number 391 was started in the same year, too.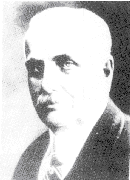 During a 1878 county fair, F.W. Woolworth tested the idea of selling a fixed-price line of merchandise in a department store counter called a "five-and-ten-cent". In 1879 Woolworth opened a store based on his concept. It worked well and the ultimate result was the Woolworth store chain. Later, the Woolworth Department Stores were found in almost every city in the United States. The Glenwood Cemetery, a large Catholic cemetery, was started in 1878 also.
In 1879, three years after they were invented by Bell, the first primitive telephones were first brought to Watertown. A set was lent to W.D. Hanchette, a Watertown telegrapher, who took a set to Cape Vincent where it was hooked up to a telegraph line. Thomas Cooper, a conductor on the R.W & O., who was a musician, was persuaded to take his violin and drums to Cape Vincent where the men established a connection around 9:00 PM that evening. Frank Horth, a coronetist, played his instrument while Cooper played along with his at the Cape Vincent end. Also, around this time electricity was brought into the city.
In the fall of that year Mr. Hanchette and some others established a company to start a Watertown exchange. The exchange opened on March 1, 1880 on the top floor of the Paddock Building. The Myrick family lived there and fourteen year old Isa Myrick became the first operator, while her twelve year old brother was the night operator. Miss Myrick continued her job as operator for twelve years and a linesman, Jim Craig, was hired. The first permanent telephone was installed in the store of John T. Ross, the second in the American Express company.
Sometime in the 1880's an 860+ acre practice rifle range was built on Stony Point for Army soldiers from Madison Barracks and Fort Ontario in Oswego (this info from the Henderson Historical Society's website). More on this firing range the subsequent "pillboxes" can be found on a later page (pictures can be seen at my site here).
1880 also saw Smart's "Steam Wagon" come through Watertown. This was made by someone in Sandy Creek and consisted of a wagon made out of an old flat car. A portable engine and boiler were mounted on it and geared for the rear wheels. It could move slowly and tow two or three loaded wagons hauling stone or timber. During the Fourth of July of that year, Mayor B.B. Taggert rode it along with a couple of boys. The vehicle crushed the flagstones of every cross street it passed as well as caving in sewers, breaking manhole covers, and leaving deep ruts and pits. But it did not excite people as much as the first electric lights installed in Watertown and turned on that evening. An electric light system was established in 1884.
As early as 1880, the Thousand Islands Region was written about in a book published in Canada. On October 20, 1884, a fire started in sawdust at the Eaton Sash and Blind Factory on the west bank of the Black River in West Carthage. The large fire jumped the Black River and burned most of the business district of Carthage and was compared to the Chicago Fire of 1871, making headlines the world over.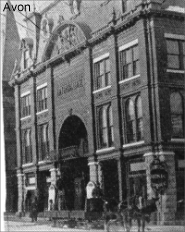 Watertown's police got the keystone-style uniforms in 1884. The Old Opera House was built in Watertown in 1885 and later became The Avon. The Avon had two balconies and could seat fourteen hundred people. At this time there were twelve theaters in the city. This was also the year that Dennis E. Guilfoyle came to Watertown as a trained carriage painter, he later started Guilfoyle Ambulance.
In 1886 the planing-mill in Natural Bridge was struck by lightning and burned but was rebuilt the same year. During the same year the Jefferson County Historical Society was formed.
In 1887 John Shoemaker bought the Natural Bridge Lime Works quarry and put in a perpetual kiln with the capacity for manufacturing one hundred bushels of white marble lime per day. In the same year the Clayton Fire Department was established.
In 1888 the Faichney Instrument Corporation was founded and located on State Street in Watertown, where the company manufactured glass mercury thermometers. It has been in continuous operation since this time and is now known as Tyco Healthcare. The company is located at 98.6 Faichney Drive, Watertown (the 98.6 comes from a body's normal temperature), and now manufactures electronic medical devices. During the Blizzard of 1977 it was one place used as disaster headquarters.
Over fifty inches of snow drop in the Watertown area in March of 1888 over a four day period. West Carthage was incorporated in 1889 on March 18th. Marcus P. Mason was their first president.



(Page 5 also has general info, famous people, inventions and discoveries from the area, name origins, references, glossary of old diseases, occupations, immigrants, and legal terms)

Compiled by Marc M
e-mail
Copyright (©) 1997 - 2007 All Rights Reserved
Okay to download and print for your own use, do not make duplicate copies.

Back to the top of the page

To search this site and/or to be notified of changes
do a search below, find the page you want to be
notified of changes to and click the "Monitor page" link.

Site first online on Thursday September 25 1997
Copyright (©) 1997-2010 Marc EM
All Rights Reserved
Custom webpages and other computer help - HMI Enterprises
e-mail