A History of the Jefferson County Region
Page 5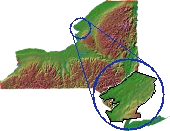 Compiled by Marc M
e-mail
Copyright (©) 1997-2019 All Rights Reserved
Okay to download and print for your own use. Please refer other interested parties to this website.
This site is no longer actively maintained.


---

- Click for a location map
On December 7, 1941 the Japanese bomb Pearl Harbor, Hawaii as well as attack the Philippines, Wake Island, Guam, Malaya, Thailand, Shanghai and Midway. On December 8, 1941 both the U.S. and Britain declared war on Japan, beginning World War II.
Because of the war and the United States Army's need for a larger training area (Pine Plains only had around 17,000 acres or so), the US Government acquired LeRaysville and the William Phelps Mansion on September 24, 1941 from Mr. and Mrs. William V. Delancey as part of the Pine Camp Military Reservation Expansion. The government also acquired the LeRay Mansion and the Sheepfold Cemetery. Pine Camp had been picked for a major expansion and an additional seventy-five thousand acres of land (some say 84,000) was purchased by the US Government. By Labor Day of 1941 one hundred tracts of land had been taken over. Five hundred twenty-five families were displaced, five villages were eliminated (LaRaysville, Sterlingville, Lewisburg (named Sterlingbush for awhile), North Wilna and Woods Mills) as well as smaller settlements (Slocumville, Reedville, Nauvoo, Sterlingburgh, East Antwerp, Alpina, and Rockwell Creek), some others were reduced to a portion of their size, three thousand buildings; including twenty-four schools, six churches and a post office were abandoned (these are the so-called "Lost Villages" of Fort Drum). Then, during a ten month period and at a cost of twenty million dollars, contractors built what consisted of an entire city to house the divisions scheduled to train there. Constructed were eight hundred buildings; two-hundred forty barracks, eighty-four mess halls, eighty-six storehouses, fifty-eight warehouses, twenty-seven officers' quarters, twenty-two headquarters buildings, ninety-nine recreational buildings, and guardhouses and a hospital. The contractors had a hard job as the winter of 1941-1942 was one of the coldest in the history of the North Country. Three divisions trained at Pine Camp under General George S. Patton's 4th Armored Division (General Creighton Abrams was a battalion commander here at the time), the 45th Infantry Division and the 5th Armored Division. Pine Camp was also a prisoner of war camp and of the prisoners who died in the POW camp, one Italian and six Germans, are still buried in the Sheepfold Cemetery near Remington Pond. (Most of the preceding and more can be found on the Fort Drum website.)
WWNY Radio began broadcasting on April 29th, 1941. Madison Barracks

was used by the National Guard, and medical and quartermaster units during World War II between 1941 and 1944. In 1945 the U.S. Government considered closing both Pine Camp and Madison Barracks. But it was decided to expand Pine Camp and close Madison Barracks.
In May 1941, The House of the Good Samaritan replaced their secondhand former-hearse that they were using as an ambulance with a Super Eight Packard donated by the estate of George R. Babcock. Mr. Babcock had been president of the hospital board of trustees when it moved to the present location. Also around this time the hospital decided that an orderly would go along with the driver, up to this time there had been no one but the driver and it's passenger (patient) onboard.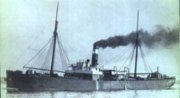 In the 1940's the Canada Steamship Line was the last to remove it's passengers steamers, due to the advent of the gasoline engine. Also in the 40's Homer Rebb converted the what is now known as Burrville Cider Mill

to cider production on a commercial level.
During World War II some of the large caves under the city of Watertown, near Moulton Street and under Public Square, were considered for bomb shelters but the idea was discarded by the city government as impractical. A few years earlier the Watertown Chamber of Commerce had considered the idea of opening the caves and caverns up to the public as a tourist attraction.
During 1944 the fire companies of Adams

which were the Tempest company No. 1, Star Hose company No. 2, and the Hook and Ladder company, were consolidated into one company. On August 6, 1945 the US uses an atomic bomb on Hiroshima, Japan from a B-29 flown by Col. Paul Tibbets, and on August 9, 1945 the second atomic bomb is dropped on Nagasaki from a B-29 flown by Maj. Charles Sweeney. August 14th saw the Japanese surrender, ending World War II. Also in 1945 the lighthouse at Stony Point was retired and is now a private residence.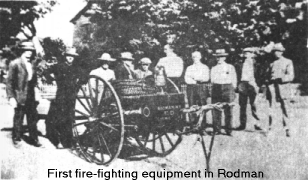 On April 1st, 1946, Samuel Upham, Watertown philanthropist, bought the Brown Mansion and gave it to the village of Brownville

. Since then it has been used as a museum, library, civic center and village meeting place. In the same year the rifle and anti-aircraft practice range (and "pillboxes") at Stony Point was declared surplus and sold (pictures can be seen at my site here). The Three Mile Bay Fire Department

was organized in April of 1947.
In February of '46 Nello Leo Poli, a caretaker from New York City who had married a Watertown native, brought her home and bought the Guilfoyle business from the estate of the deceased Mrs. Guilfolye (who had died in 1943). Later in that year he bought the Babcock ambulance from HGS Hospital, who ended their own ambulance service. Mr. Poli operated the ambulance service under the Guilfoyle name, and the funeral home under his own.
The New York Central Railroad abandoned its line to Sackets Harbor

in 1949 and in the same year the Watertown High School was built. The Edward John Noble Hospital at Alexandria Bay was opened in 1950 and has been since enlarged. In 1951 the undertaker F. Herbert Benoit started an ambulance service, giving Watertown two at this time. Benoit mostly delivered his patients to HGS (House of the Good Samaritan) while Poli took his mostly to Mercy.
On December 3, 1951 Pine Camp was officially renamed Camp Drum

in honor of Lieutenant General Hugh A. Drum, a First Army Commander in early WWII. In June 1952 the 655th AC&W Squadron started operating AN/FPS-3 and AN/FPS-5 radars on the Dry Hill Plateau, and assumed coverage previously provided by Lashup site L-6 at Pine Camp (now Fort Drum). This installation was not connected with Fort Drum in any way and was a part of the 21'st RCC (NORAD Regional Control Center) a SAGE network, located at Hancock AFB, Syracuse, and was under the Air Force's Aerospace Defense Command (ADC or ADCOM). The 655th Radar Squadron was based there and was under the jurisdiction of the 21st Air Division of Hancock Field, Syracuse. About 150 men were stationed at this location and a residential area was built nearby. The installation is now Watertown Correctional Facility (Dry Hill Prison) and uses some of the same buildings.
1952 saw the first ambulance service for Three Mile Bay area started and the Car Freshener company, created by Jules Saaman at the Leray Hotel, open up. This company is known the nation and world over for the small pine tree-shaped car fresheners.
In July of 1953 the Korean War began. 1953 also saw three beacons authorized for the St. Lawrence - one near Alex Bay

, one at Cross-Over Island, and one at Rock Island Lighthouse in Orleans. Rock Island Lighthouse is straight out from Fisher's Landing and opposite Wellesley Island's Thousand Island's Park

, and at the beginning of the American Narrows and at the edge of the channel. Rock Island is now a State of NY park and can only be reached by water. 1953 saw the three islands on Public Square in Watertown being made into one to help alleviate traffic problems. Also in 1953, Rodman

formed a volunteer fire department and on October 22nd, and in 1954 WWNY Television started broadcasting at 8 PM from their Champion Hill studio. They were then going by the call letters "WCNY" and owned by the Johnson Family, who owned the Watertown Daily Times and some other radio stations. Also in '54 The Carthage Central School District was formed. In 1955 members of the Town of Watertown Fire Department built the firebarn on Brookside Drive at Watertown Center. It was later sold to the fire district at material cost. The Lorraine

Volunteer Fire Department was organized in 1962 with Frank Ramsey as chief.
A new high school was built in 1956 near Dexter for the 1954 merger of the Brownville-Glen Park and Dexter school districts. This was enlarged in 1960 and the elementary school in Brownville

was enlarged in 1964.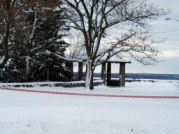 In 1956 a hundred-sixteen acres were ceded to the City of Watertown by the town of Watertown for Thompson Park. During 1957 the Benoit Ambulance service ended, and Guilfoyle took over for both hospitals. Between April 13, 1957 and August 1, 1959 Interstate Route 81 was built across the western part of the Town of Watertown. Interstate 81 (also called Route 81) reaches from the 1000 Islands Bridge to Tennessee, without tolls nor stop lights. On October 4th, 1957 Sputnik was launched into orbit, the first man-made satellite.
In 1958 the Dryhill Radar Installation was operating with AN/FPS-20 search radar and AN/FPS-6 height-finder radar sets, and had joined the SAGE system. A second AN/FPS-6 height-finder radar was added during 1959. In 1961 the search radar was upgraded and redesignated as an AN/FPS-66. One height-finder radar was replaced by an AN/FPS-26A frequency-diverse radar in 1963. In 1964 the AN/FPS-66 was replaced by an AN/FPS-27 frequency-diverse radar. The other AN/FPS-6 height-finder radar was retired also in 1964. The site came under TAC jurisdiction in 1979. The 655th Radar Squadron (SAGE) was deactivated November 1, 1979. The GATR site was retained until the JSS switchover in late 1983 or early 1984. (preceding courtesy of Steve A.)

The St. Lawrence Seaway opened in 1959, bringing many large lake and ocean-going vehicles through the St. Lawrence River.
A group of musicians during 1959 did a production of Brigadoon at Case Junior High School. The production was successful, so the group began forming their own organization which would be called the Watertown Lyric Theater. In 1960 the Pamelia Volunteer Fire Department was formed. During the 60's railroad passenger traffic began to cease in Watertown.
On December 29th of 1960 the Dry Hill Ski Area went into operation, with improvements done by the Dry Hill Development Corp. The northeast slope of Dry Hill where the ski area is situated was formerly part of the ancestral Hungerford Farm, where Timothy Hungerford settled. Around 1972 the Hall Ski Lift Company bought the area then leased it to Snow Cap Ski Development, Inc., and a new ski lodge was built.
In 1960 the lamp at Tibbets Point

was changed to 500 watts which made it 15,000 candlepower and visible for about 16 miles. The lamps burn around twice as long as the old ones, around 2000 hours now. The original Fresnel lens has remained the same.
The Cuban Missile Crisis took place in October of 1962, President Kennedy was assassinated in November, 1963 in Dallas, Texas. In 1962 the Watertown Daily Times moved to their new building. During 1963 three Watertown residents were shot and killed at a Route 81 rest stop. In September of 1963 the Jefferson Community College opened in Watertown with a hundred-sixteen freshman for the day program and two-hundred students for the evening. In 1964 three buildings for the college were completed and in the following years more and more buildings were added. Also in 1964 Price is Right Island was given away by Bill Cullen on the "Price is Right" TV show.
Viet Nam War - 1964-1975.
The Mohican Building was demolished in October 1964 to make room for a parking lot, and in the same year the Thousand Islands Museum was founded. Also New York State bought the Union Hotel and several parcels of land adjacent to the Old Battlefield Park in Sackets Harbor

and began a program to open the historic site to the public. In 1965 the Woodruff Hotel opened a discotheque in the bar. Also, in the same year WCNY TV changed their callsign to WWNY (The WCNY call sign now is owned by a PBS affiliate in Syracuse).
In March 1968 work was begun on Route 232, otherwise known as Rice's Road, by the State Department of Transportation. The $1,364,00 project consisted of building a highway bridge over the Penn Central Railroad tracks, thus eliminating the grade crossing, and the sharp, curved approach to Route 81 as well as other improvements.
In June of 1968 a community library was erected on the site of the old Cup and Saucer House and donated to the village of Cape Vincent

by Mr. and Mrs. Robert Purcell of New York City and Deerlick Farm of Cape Vincent. In July of the same year the first French Festival Day was started in Cape Vincent, due to earlier efforts by the publicity chairman of the Thousand Islands Publicity Council and the Cape Vincent Chamber of Commerce, Mrs. Esther Levy. July 7, 1965 Carthage Area Hospital was opened. During 1966-1967 a million cars crossed the 1000 Islands Bridge. In early surveys traffic engineers predicted an annual number of vehicles would be four-hundred thousand per year, though in 1944, during World War II, only about sixty-six thousand cars crossed it.
Around 1968 the first St. Lawrence skiff was built in Clayton, NY by Xavier Colon. He started the St. Lawrence Skiff, Canoe and Steam Launch Company and later moved the company to Canton, NY.
Also, in 1968 the Bay Drive-In Theatre, located just outside of Alexandria Bay

, was built to replace the Thousand Island Drive-In. The old drive-in was adjacent to the Thousand Island Bridge

in the location which coincided with where Route 81 and it's cloverleaf of Exit 50 would be, so the old drive-in had to be torn down. The new drive-in was built on land where previously a small amusement park had been built but never opened. The screen is a Selby tower screen and all the concession equipment was built by Manley, the capacity of the theatre was three hundred cars. The present-day owners purchased it in 1982 and started remodeling in 1992. The remodeling continued for three years and included completely rebuilding and expanding the concession area, connecting the concession building to the restroom building with the only inside seating area in New York State with a capacity of sixty seats.
July 20, 1969 Apollo 11 landed on the Moon. Mina Anthony Common Nature Center in Wellesley Island State Park

was opened in 1969, and the Northern New York Agricultural Museum was established (In Stone Mills

, using buildings including the Stone Mills Church, built in 1837). Also in 1969 Ernest Gould wrote a very comprehensive and thorough book on the history of Watertown, and in Carthage the Greenbriar Nursing Home was opened. During the 70's the Olympic Theater began regularly showing adult movies. WWNY Television moved to its new and present home on February 19, 1970 on Arcade Street. This location was the former home of the Watertown Daily Times, which moved to its own present location on Washington Street. Also in 1970 the Coast Guard station at Alex Bay was increased from four men to twenty-one and in Watertown the City Center Mall was open to the public.

In 1971 Arthur Shawcross killed two children; a young boy and an eight year-old girl. He served a short term and was later then released. He moved to Rochester and murdered fourteen prostitutes there before being finally caught. Shawcross was sometimes known as the "Genesee River Killer".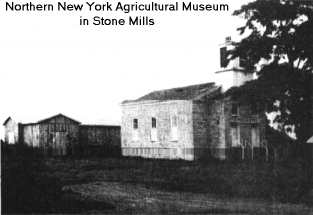 Heart Island and Boldt Castle were put up for sale in 1972. In the same year the North Country Library System's facility was built at the location of the old Jefferson County Poorhouse. In 1972 the steam whistle at Tibbets Point Lighthouse was replaced by a radio beacon. Tibbets Point Lighthouse has the only classical Fresnel lens still in use on the entire Lake Ontario. Also in the same year the Jefferson County Children's Home went from being an orphanage to a childcare residential facility which served court-placed residents. In 1973 Bruce M. Wright became principal owner of Guilfoyle Ambulance and moved it to it's present location on Newell Street in 1974.
An industrial park situated off from Coffeen Street consisting of over one-hundred ten acres of land, was started in 1974 and contains many businesses. Also in the same year Camp Drum was renamed Fort Drum

and a permanent garrison was stationed there. And elsewhere during 1974, Madison Barracks in Sackets Harbor

was listed on the National Register of Historic Places but was still mostly empty and continued to deteriorate. The Sackets Harbor Battlefield was also listed on the National Register of Historic Places. In March 1976 the Hotel Woodruff Building was torn down and the lot stood empty for the next twenty years. The hotel had by this time been vacant for two years and consisted of two hundred-seventy rooms. It was the largest structure to be torn down in Watertown history. Also in the same year Henderson Harbor hosted the tryouts for the Olympic sailing events.
The Thousand Islands Bridge Authority bought Boldt Castle and the island in 1977 and spent millions of dollars remodeling and fixing the grounds and buildings. In the winter of the same year the Blizzard of '77 hit, dropping massive amounts of lake effect snow on the area over the four day period. On Friday, January 28, Watertown began to get buried in the Blizzard of 1977 and zero visibility was reported with wind gusting to over 50 miles per hour. A cold front, the unfrozen Lake Ontario, and favorable atmospheric conditions produced a severe lake effect. Snow totals were in the range of 66 inches in Watertown, 72.5 inches in Mannsville, and 93 inches in Fort Drum, and more than 100 inches in areas southeast of Watertown. The snow, along with the winds, resulted in drifts of over 15-30 feet and the stranding of almost two thousand motorists in the region. Local radio station DJ's were stranded at WOTT but stayed on the air to comfort and distribute information to listeners. After a short slowdown the storm restarted on the morning of Saturday, January 29. The snow stopped around Tuesday after periods of starting and stopping as well as zero visibility. During the blizzard buildings had collapsed, farms had to dump their milk, and five deaths were recorded from hearts attacks while trying to shovel snow. High floods from the large amounts of snow were also a concern.
WWNY Radio changed their callsign to WTNY radio in 1980.
During the period of 1981 to 1982 Fort Drum was considered for housing the Haitian "boat people" that were be detained by INS. In April of 1980; B Company, 76th Engineer Battalion (Combat Heavy) was reassigned to Fort Drum

from Fort Meade, MD and was followed by the rest of the battalion, except Company D, three years later. The Department of the Army announced in January 1984, that it was studying some Army posts for a new light infantry division. A Construction Battalion was activated in 1982 to begin preparing Fort Drum to become the installation that it is today. On September 11, 1984; it was announced that Fort Drum would be the new home of the 10th Light Infantry Division. The new division was officially activated on February 13, 1985 and the name was changed to the 10th Mountain Division (Light Infantry). Between 1984 and 1990 Jefferson County was the fastest growing county in New York state, because of the Fort Drum expansion and related industries. The county's population grew from 88,151 to 110,943, an increase of 25.86 percent.
In May of 1981 the Coast Guard left Tibbets Lighthouse

and the living quarters there were closed. The lighthouse still runs the light tower via automated operations from Oswego. In the same year the Johnson Family sold WWNY to its current owner, United Communications Corporation, for $8.2 million.
During 1984 the caretaker's house was opened as a Youth Hostel. In 1986 Madison Barracks (Sackets Harbor

) was bought by developers who began renovation, which is still underway today.
In 1988 the lighthouse at Rock Island was converted to solar power, and is now owned by the Saint Lawrence Seaway Development Corporation. During the same year the New Tibbets Point Lighthouse Historical Society was formed by Shirley Hamblin for restoring and preserving the lighthouse and its grounds. The last operating, one-room schoolhouse in the state of New York closed in 1989, on Grindstone Island

. The schoolhouse is set in the middle of the island and is now the Grindstone Island Research and Heritage Center Headquarters. Also in 1989 Fort Drum's 10th Mountain Division

reached its full strength. Between 1986 and 1992, a hundred thirty new buildings, thirty-five miles of roads, and four-thousand two-hundred seventy-two sets of family housing units were built at a cost of $1.3 billion.
In 1989 Doug Berry was killed during a botched burglar at his store on the Square (Public Square) in Watertown. The murderer, Gary Evans, was found nine years later and was killed escaping. November 1989 saw the Berlin Wall fall. In 1990 Tina Hosmer Smith was killed and the murderer has yet to be found.
The next year in March 1991, an ice storm hit Jefferson County when temperatures hovered around freezing for a day. The ice shut the county down for three more days.
Perch Lake

, previously unexploited, was opened to only ice fishing in December 1994. Perch Lake, one of the largest bodies of water in Jefferson County and now a state game management area, sits on the northern edge of the town of Pamelia. Perch Lake is the only water in the United States that is open to ice fishing only. Near Perch Lake several burrows, considered by some to be sepulchral mounds, have been found. Previous accounts by archaeologists and locals say there were hundreds around Perch lake and the surrounding areas. Around 1950 DEC bought the Harwood and Ella McSweeney property, of which have since become the 2,310-acre Perch River Wildlife Management Area. A warranty deed guaranteed the McSweeney's 45 years of fishing rights on the lake. In 1995, when those rights expired, the DEC opened the 540-acre lake for ice fishing only. Fishing is limited to the winter only, between December 1st through March 1st, for environmental purposes - to avoid possible conflicts with nesting waterfowl, refuge for migrating waterfowl, and protect other wildlife. This also allowed biologists to study the impact of ice fishing on wildlife. The lake is about 10 or so miles north of Watertown, and can sometimes be seen from Interstate Route 81, especially during winter months. The 545 acre lake is shallow, with a maximum depth of about twelve feet. The bottom is bowl-like with deep silt between it and the wetlands, with sand elsewhere. Fish found there - northern pike, largemouth bass, brown bullhead, black crappie, pumpkinseed, bluegill, yellow perch, and golden shiners. Northern pike and yellow perch are the most popular caught. Access to the entire Perch River Wildlife Management Area, including the lake (but not for fishing,) is allowed for nine days in August each year.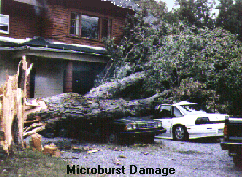 July 15th, 1995 saw a large microburst hit the area early in the morning and cause much damage, hitting just a few hours before sunrise and with gusts upward of one-hundred miles per hour. A microburst is a small, concentrated downburst caused by a violent low pressure system and most are short-lived. Many buildings, homes, and businesses were damaged including the Bay Drive-In (outside Alex Bay

), which had much damage but was back in the business of showing movies in nine days. The Town of Clayton Fire District was formed in 1996; combining the Village of Clayton Fire District, Depauville Fire District, Clayton Fire Department, and Depauville Fire Department. Also in 1996 the Woolworth chain of stores closed, including the Watertown one.
During 1997 the Bay Drive-In expanded with additional acreage beside the original theatre and a second theatre was constructed with a self-designed 33' x 66' tower screen, and a capacity of two-hundred cars. The second screen went into operation July 30, 1999.
Also in 1997, November12th saw a major fire in Watertown destroy the vacant JR Miller's building annex.
In January of 1998 one of the worse natural disasters to hit Jefferson County struck - The Ice Storm of 1998. Around thirty-six hours of freezing rain left power out in the county and roads impassable, and many people were without power for weeks. Power and utility crews, fire departments, emergency workers, the American Red Cross, the National Guard, and others from all over the United States and Canada came to Jefferson County to help. The ice storm also affected states as far away as Maine.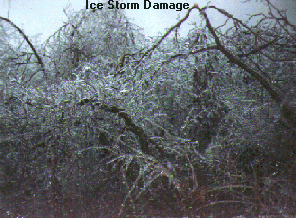 On January 15, 1999 the Depauville Firehall

collapsed under the weight of almost two feet of snow during a couple weeks of snow which had fallen nearly every day. In April of this year a large fire destroyed an apartment building and left seven people homeless at 224 Coffeen Street in Watertown.
January 1st, 2000 saw the New Year come to Jefferson County with no major problems, despite many Y2K concerns. Frinks in Clayton

shut their doors for the last time during this year, but not all employees were paid by the owners.

All was well in the North Country with the real beginning of the new Millennium and the 21st Century; the year 2001.
September 11, 2001 terrorists attack our country.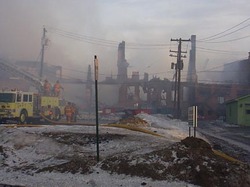 On March 2, 2002 eight buildings were lost (at the site of a fire that had happened 103 years before) and another was demolished, a hundred fifty people, and as many as twenty-seven families were homeless after an early morning fire swept through downtown Carthage

. The fire was believed to have started in a wood-burning furnace in the cellar of the former Harold Johnson auction store, previously an F.W. Woolworth store, but an exact cause has not been found. At least ten fire departments and over two hundred fifty fire fighters struggled through the day trying to stop and contain the blaze, and it was estimated that over eight thousand gallons of water a minute were being used, with a total of three million gallons by noon and as the day went on water was taken from the Black River to allow the Carthage water tower to refill. (Many pictures at this site & Watertown Daily Times reprint here. Above photo courtesy of Lynn Thornton from her webpage.)
10th Mountain Division troops were sent to Afghanistan in December 2001, and then to Iraq in 2003. The 10th has played an important role in various conflicts, like the famous rescue of downed Navy Seals during "Operation Anaconda" in Afghanistan in 2001. They continue to be deployed and many have died fighting for our country, and continue to do so in Iraq.
A massive fire at Max's Outfitters, Court Street, on March 5th, 2004 totally destroyed the business and damaged the Second Look Bookstore and Dr. Guitar, as well as a drapery store. Watertown Fire Department battled the raging fire and called in mutual aid from the Town of Watertown Fire Department and Fort Drum Fire, which had a larger ladder truck, and later around ten departments and an estimated hundred fifty firefighters fought it. The firefighters stopped it from spreading to other closely-built buildings on the block. Firefighters said a firewall protected other businesses in the same building, but a metal facade hampered access to the interior if the building. Arson was found to be the cause of the fire and an employee of Max's Outfitters, Kelly Gleason-Tyo, was arrested and took an Alford (some call it Alfred) Plea.
These are some of the major historical and important events of the Jefferson County Region to this date. If you would like to suggest any items to be included please e-mail me.





Watertown was once reputed to be the richest city of its size in the country, with more millionaires per capita than anywhere else! At one time Watertown was sometimes referred to as "Garland City" because in the 1800's and early 1900's Public Square businesses would display red, white, and blue garlands and buntings along their facades.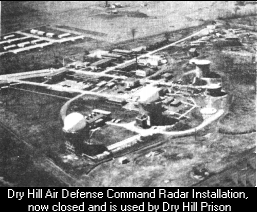 In the present day, Watertown's suburbs reach into the Towns of Brownville and Pamelia and almost the whole course of the Black River from Carthage to Black River Bay is populated. Huntingtonville and Juhelville were villages incorporated into the city of Watertown years ago. Dry Hill, south of the city and former home of a military radar station (now a prison) is said to have gotten its name from a distillery placed there long ago. The still up on the hill was called "Dry Hill" by the patrons using it.
The city of Watertown has its own Jefferson County Historical Society, the Flower Memorial Library, a zoo, the Salmon Run Mall, a community college, a large park, and many other amenities. Sackets Harbor has a total of 156 buildings from the 19th Century still standing and it was said that the Confederate General Stonewall Jackson went to Henderson for treatment for a stomach problem at a time period before the Civil War started - his treatment was in part to walk from Henderson to Henderson Harbor daily. Watertown Center is the home of the beautifully landscaped Brookside and Glenwood cemeteries. The city's Watertown Fire Department has three fire stations, eighty-two men, three engine companies, one truck company and one heavy rescue company and there is a privately-owned ambulance company based in the city - Guilfoyle. The Watertown police force numbers over seventy officers who patrol the more then ninety-four miles of streets that make up the city.
Jefferson County is the birthplace of chloroform (Doctor Samuel Guthrie of Sackets Harbor used it for anesthesia), the safety pin (by Walter Hunt), a practical sewing machine, the brown paper bag, shredded wheat, the Hitchcock lamp (with a wind-up fan in the bottom to cut down on smoke), the hooded t-shirt, the railroad sleeping car (invented by Theodore Woodruff), bedsprings, the fountain pen, Car Freshener 'little-trees', Croghan Bologna, Philadelphia Cream Cheese (in Philadelphia, NY; but there is some debate as to whether it really was invented here or actually in Philly, PA), the original yo-yo idea, and of course Thousand Islands Dressing (mayonnaise with chili sauce and seasonings - chopped pimentos, green peppers, and onion). Edward John Noble lived in Governeur; he owned the Beechnut Fruit Company and invented Lifesavers.
Famous people who have lived in the Jefferson County area include Melvil Dewey of the Dewey Decimal System, Secretaries of State John Foster Dulles (Watertown's Dulles Office Building is named after him) and Robert Lansing (a street is named after Lansing), NY State Governor Roswell P. Flower (the Flower Memorial Library is named after the governor), famous author Marietta Holley (who lived in the Adams area), Waldorf-Astoria owner George Boldt (who built the fabulous castle which is on Heart Island), Napoleon's brother Joseph Bonaparte is rumored to have lived in Cape Vincent for a time, actors Richard Grieco and Viggo Mortenson, Mary Margaret Humes (a runner-up for Miss America and actress), porn-star Savanna Samson, stage actress Eugenie Besserer (born December 25, 1868 in Watertown, died May 30, 1934 in Los Angeles, California), J. Sterling Morton who is the founder of Arbor Day was born in Adams, Scotty Mattraw (who had a place called Scotty's Eatable Eats in Watertown and later left for Hollywood and became an actor), and the (in)famous Area 51 was said to be originally named the Watertown strip for Allen W. Dulles, director of the C.I.A. from 1953-1961, in recognition of his birth place.
Fort Drum, nearby Watertown, is one of the largest military reservations in the U.S and has the largest tank range east of the Mississippi River. "Lost Villages" and notable landmarks acquired and absorbed by Pine Camp, as it was originally called; were Sterlingville, Lewisburg, North Wilna, Woods Mills, Leraysville, Reedville, Hubbard Crossing, Alpina, Doolins Crossing.
The 1000 Islands region, also in the county, is a great tourist attraction and consists of a group of about eighteen-thousand sixty-four islands of all sizes extending along an area of about eighty miles or so, with the most concentrations near the Thousand Islands Bridge in the Alex Bay area. Most are in southeast Ontario and the rest are in northern New York, and numerous ones are privately owned. The 1000 Islands area also has the shortest international footbridge in the world on Zavicon Island between the United States and Canada. And it has the shortest vehicular bridge, too; the International Rift which is one of the five spans of the 1000 Islands International Bridge. The largest island is Wolfe Island in Ontario (forty-nine square miles/a hundred and twenty-seven square kilometers) is named after English General Wolfe. Carlton Island was a rendezvous for Mohawk Indians a guard post during the Revolutionary War, and Pidgen Island was famous because of a book by McGrath. Grenadier Island was where the Wisconsin was burned and the scene of the ill-fated Wilkinson Expedition. Clara Barton, one of the pioneers of the American Red Cross, spent many a summer on Island Royal which later was bought by Andrew J. McNally of the Rand McNally Publishing Company. Schuler Company of Schuler's Potato Chips owns Fairyland Island and the estate of the late Robert Peach, founder of Mohawk Airlines, of New York City owns Manhattan Island. He was the founder of Mohawk Airlines. Deer Island is owned by the Skull and Bones Society of Yale University. The tiniest castle in the 1000 Islands area is Castle May, owned by Mrs. May Castle from New Castle, PA. At one time Mr. Charles Emery, President of the American Tobacco Company (that originated Lucky Strikes Cigarettes) owned Calument Island. Arthur Godfrey sang the song, "The Thousand Island Song (Oh, Florence)" [about a man who searches for his runaway girlfriend who has run to the Thousand Islands, but he doesn't know which one of the thousand islands she's on - thanks to Anthony Gargiulo for research into this song and previous correction] so the Thousand Islands Bridge Authority gave him Florence Island as a gift in return for the free advertising. Ash Island has its own railroad which starts at the home on the cliff and runs to the boathouse; the owners use it for personal transportation and supplies. Most of the islands get electrical and phone service via cables that run along the bottom of the river and connect to the mainland. There are also many shoals; islands are considered a land mass that never goes below the water line and has at least one tree. The smallest islands is Tom Thumb. It is said that the nation's largest antique boat show is in Clayton. At one time, the most exclusive club in the world was the Thousand Islands Club on Wellesley Island. The club's initiation fee was $100,000 with an annual fee of $10,000.
The Black River enters Jefferson County at Carthage (and originates in Hamilton County from a small lake there) and falls about a hundred and forty-eight feet over the length that it runs the county. The high volume of spring snow melt it gets is perfect for white-water rafting and results in classifications of III - V. Jefferson County has more then two-hundred fifty-six miles of shoreline and about eighteen hundred miles of rivers and streams. In the southern part of Jefferson County there are large gorges caused thousands of years of glacial melting. To name a few there is Inman Gulf, Lorraine Gulf, and Totman Gulf. The county itself is around 1,300 square miles (over 3,300 square km) in size and the ninth largest county in the state, and is mostly a fairly lowland region with Lake Ontario to the west and Ontario to the northwest, and the St. Lawrence River constituting the boundary. There are still abundant forests in the area; the majority of the trees being maple, birch, and beech.





Name Origins
Arsenal Street - Columbia Street
Adams - Smith's Mills
Black River - called by Indians Ka-hu-ah'-go meaning great or wide river
Carthage - Long Falls
Chaumont River - Catfish Creek
Clayton - Cornelia (1823), French Creek
Depauville - Catfish Falls
Dexter - Fish Island (Dexter was named after S. Newton Dexter of Whitesboro)
East Rodman - Whitesville
Ellisburg - Ellis Village
Four Corners - Shantyville
Fulton - Oswego Falls
Wolfe Island - Gannin-k-not (Indian name; meaning straw, wheat, or grain?), Grand Island, Isle Buade
Heart Island - Hemlock Island, then Hart Island
Henderson - named for William Henderson
Henderson Harbor - Naples
Henderson Bay - Hungry Bay
LaFargeville - Log Mills
Lake Bonaparte - Lake Diana
Lorraine - Malta
Lyons Falls - High Falls
Mill Street (in Watertown) - where it crossed the river was called North Street
North Massey Street (in Watertown) - Madison Street
Oxbow - name derived from the large bend in the Oswegatchie River
Philadelphia - first called Elizabethtown, then Friends Settlement and also contained a area called Pogeland.
Pamelia - named after General Jacob Brown's wife
Plessis (also see below) - Flat Rock
Point Salubrious named because it was the only known point free of malaria.
Rodman - Harrison
Rome - Fort Stanwix
Big Sandy Creek - Burr's Mills
Sandy Creek - called by Indians Teka'daoga'he meaning sloping banks
Stone Mills - Collins' Mills
Theresa - High Falls
Thousands Islands - The Indians called the 1000 Islands man-i-to-anna, which means the 'Garden of the Great Spirit'
Toronto - York
Utica - Old Fort Schuyler
Watertown - Great Falls, High Falls, Jefferson Village
Wellesley Island - Wells Island
Wilna - A location in Russia, original translation name - Vilnia (Vilenskaj)
The village of Chaumont was named after Le Ray de Chaumont and Alexandria Bay and Cape Vincent were named after Le Ray's sons. The village of Theresa was named for his daughter and Plessis was named after possibly his dog or a town in France.


Click here for a Glossary of Old Diseases and their present-day meanings


Click here for a Glossary of Old Occupations and their present-day meanings


Click here for a Glossary of Old Legal Terms and their present-day meanings


Click here for a Glossary of Early Immigrants and their origins

David Hickox Diary number 1 - makes an interesting study on the life of a person
living during 1804 and his travels to and in Jefferson County, typed by James R. Hickox


References:
Lots of tidbits from many people on the .
The book Penet Square by Thomas F. Powell
William Lafferty, Ph.D.
Child's Gazetteer - pages 843 - 843 under Town of Wilna from 1860 (found by Shirley C. Farone)
Michael Cross
Historical Buildings of Jefferson County, NY by Lois Flack
Nancy Dixon for help and some of the info
Books lent to me by Greg Hall
Russell Dear
Sally K.
Steve A.
Lois Flack's excellent site "Lighthouse of Jefferson County, New York"
Many historical websites (too numerous to mention)
History of Jefferson County in the State of New York from the Earliest Period to the Present Time, Franklin B. Hough, Sterling and Riddell, Watertown, 1854
Some info from Terry Docteur - http://www.frontiernet.net/~docteur/pages/index.htm
Jefferson County - 1976
Rootsweb
Lots of stuff from Nancy Ring-Kendrick
Shirley Farone's Webpages
150 Years of Watertown...A History by Harry F. Landon 1950
Four Rivers Historical Society literature
InfoPedia Multimedia Reference Tool CD-ROM
Encarta CD-ROM
'Earthbob'
Roman K. for proofreading help
Watertown Daily Times
Info and a pic from Kurt Hyneman
Watertown in Pictures 1800-2000
City of Watertown Website history
Some Fort Drum info from their website - Fort Drum
Nice site on the Great Rope and the Battle of Big Sandy
Others who did not wish to be mentioned, thank you all.

Don't forget to check out Mark Wentling's Jefferson County, New York page with lots of good stuff!
Shirley Farone's website - Reflections on Jefferson County, NY
A History of Jefferson County in the State of New York by Franklin B. Hough, published in 1854 and typed by Shirley Farone (see above link)
The Historical Association of South Jefferson - Dedicated to the preservation of the History of the Sixtowns of Southern Jefferson County, New York.
Historic Watertown (lots of links and pictures)
Jefferson County Wiki - Everything Jefferson County
Jefferson County, New York Genweb

Eagles Byte Historical Research
Jefferson County New York American Local History Network
HendersonHistoricalSociety.com
Jefferson County Historical Society
Four Rivers Historical Society
Holcombe-Jimision Farmstead Museum
Stone Mills Museum, Northern New York Agricultural Historical Society
History of Watertown- FROM OUR COUNTY AND ITS PEOPLE
A DESCRIPTIVE WORK ON JEFFERSON COUNTY
NEW YORK
EDITED BY: EDGAR C. EMERSON
THE BOSTON HISTORY COMPANY, PUBLISHERS 1898

Compiled by Marc M
e-mail
Copyright (©) 1997 All Rights Reserved
Okay to download and print for your own use, do not make duplicate copies.

Back to the top of the page
Site first online on Thursday September 25 1997

Copyright (©) 1997 - 2010 Marc EM All Rights Reserved
Custom webpages and other computer help - HMI Enterprises